Dear St. Andrew's Family,
The Elders of St. Andrew's cordially invite our church community to celebrate Chap Clark's ministry among us and to bless him and Dee as they go forward together. This gathering will take place on Sunday, November 14, 11:30 a.m. – 1:00 p.m. Lunch will be provided!
In 2017, when Chap and Dee accepted the call to serve St. Andrew's, it was a time of significant transition for our church. Yet only the Lord knew the extraordinary events to come. Embracing the challenges throughout his tenure with us, Chap led courageously and positively through a period of healing, while simultaneously framing an exciting vision for St. Andrew's — a Neighborhood Church with Global Impact. Ever since his first Sunday here, Chap's unwavering missional focus has helped us all to learn — and live out — what it means to know, trust, love and follow Jesus Christ as King. He has also shepherded our church and community in a wise, compassionate and loving manner during the unprecedented circumstances of COVID-19. Under his continued leadership, our church family and staff are emerging from this daunting episode with vigorous momentum.
Among Chap's many lasting imprints as St. Andrew's sixth Lead Pastor, we have gained a deeply edifying small group program and curriculum in Branches, along with a wondrous new kingdom enterprise through his establishment of the St. Andrew's Leadership Institute (SALI). We have also seen our entire family ministries area revitalized, and our community engagement with local schools has been greatly enhanced through Chap's initiatives. Dee's heart for our church and her prayerful commitment to Chap's service here have blessed us all.
As we wait on the Lord with expectancy for his calling of our next Lead Pastor, we just as surely reflect on the richness of God's grace to us through Chap and Dee's season at St. Andrew's.
Please join us on November 14 to honor Chap and Dee, and to wish them God's very best during the next phase of their kingdom journey.
To His glory,
Your Session Elders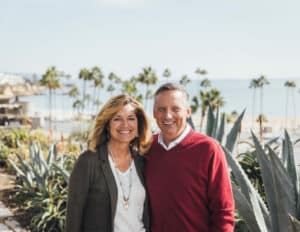 Congregational Meeting Information
Join us for a Special Called Congregational Meeting, November 14, 2021, between the 9:00 and 10:30 a.m. services in the Sanctuary and online via Zoom (link below), to conduct the standard procedure of voting on the dissolution of Chap Clark's call as Lead Pastor and Head of Staff of St. Andrew's as he retires from his position. If quorum is not met, the Session and congregation will regard the business on the agenda as having been approved by an affirmative congregational vote as if a duly called congregational meeting was held. We hope to also see you at the Clark celebration after the 10:30 a.m. service!
Zoom Link:
bit.ly/sapres1114
Password: sapres